PATIENT RESOURCES / DR's Blog
Mommy Makeover – Giving You Back Your Pre-Pregnancy Body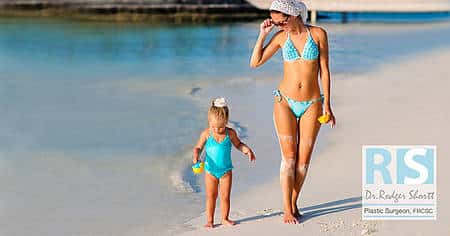 What is a mommy makeover?
How would you like to bring back your pre-pregnancy body? A mommy makeover is typically requested by women post-pregnancy who would like to return their bodies back to their pre-pregnancy appearance. It can often involve a tummy tuck and breast surgery, which can include breast augmentation with implants, a breast reduction, a breast lift, body contouring to reshape the silhouette, and/or liposuction.
Oftentimes, women request a mommy makeover, or a tummy tuck and breast augmentation in combination with another surgery post-pregnancy, such as the repair of an umbilical hernia – whereby the tissue around the belly button and abdomen are returned to their pre-pregnancy appearance.
With a mommy makeover, my goal as a plastic surgeon is to reshape the tummy and the breasts so that the patient feels confident enough to walk down the beach wearing a bikini. For some patients, this may seem daunting, but I take extra time to ensure that scars are positioned below the bikini line and the belly button is given a natural looking appearance, instilling confidence in the patient and helping them to look their best.
Can any surgical procedures be combined with a mommy makeover?
It is very common to do a tummy tuck with a breast procedure. The most common are breast augmentation, lift or reduction. Any of these can be safely done and lead to a very nice result.
When is the best timing for a mommy makeover?
The best time to have a mommy makeover is when you are healthy and have a stable weight. On occasion, I get asked if this can be done at the time of birth. Sometimes my patients' obstetrician has offered to do it for them. This is really not a good time. Beyond just the need to nurture your baby and form a bonding relationship, your body is just not ready. The uterus shrinks and additional weight is lost over the following months. The results would be very limited and likely disappointing over the long run. Besides, you probably won't be sleeping much and the additional stress is just not worth it.
What is the down time for a mommy makeover?
Breast surgery does not add much to a tummy tuck for recovery time. I usually tell my patients having a mommy makeover that the first few days you are moving slow, by one week you feel pretty good, and by two weeks I am putting the brakes on you. For an office job, two weeks is doable. Three is more than enough. For a physical job, count on six weeks to recover.
To book a private consultation with Dr. Shortt please call 905-849-4282 or click here.
Feel good, look great!
---
LET'S DISCUSS YOUR OPTIONS CONTACT US TODAY.