PATIENT RESOURCES / DR's Blog
Achieving the Natural Contour of the Bikini Bridge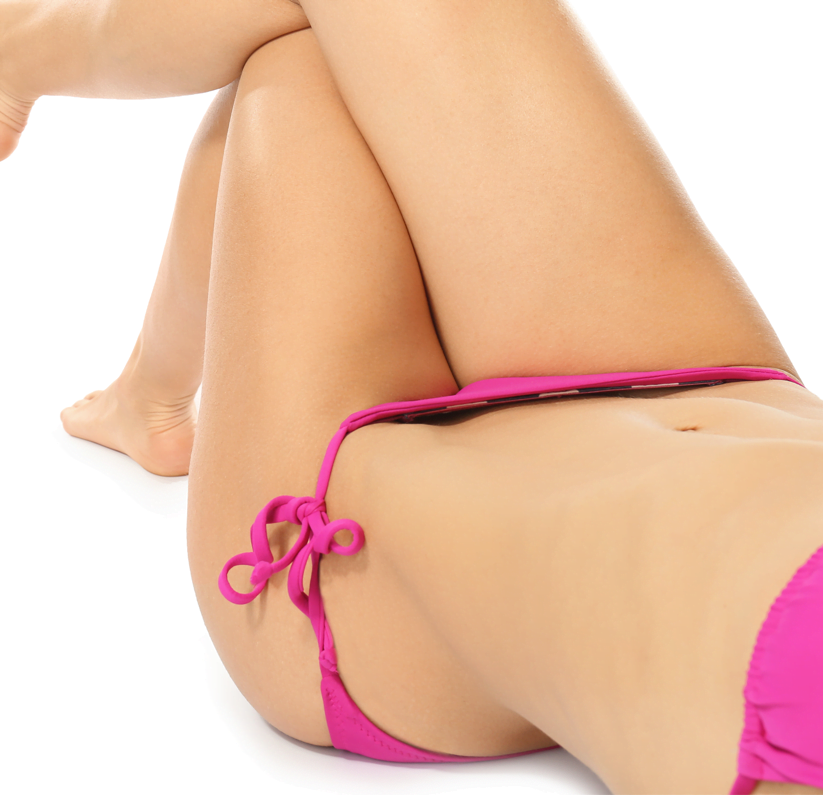 What is the secret to creating a natural looking tummy tuck?
For some time, I have been trying to advance the tummy tuck techniques that l learned during my plastic surgery training, to create a more beautiful, contoured abdomen. One of my favourite surgical techniques is to create a hollowed-out area of the lower abdomen, just inside the hip bones. This area will take on the look of being scooped-out, giving patients a thin, fit appearance. I only recently learned that the name for this look is the "bikini bridge".
If you are wondering what the "bikini bridge" looks like, picture a fit woman with a great tummy, lying on a beach chair with a slim bikini. The space between the bikini and the skin, as the bikini stretches over the hip bones is called the "bikini bridge". If you can't picture it, simply Google "bikini bridge images". For some women it is a natural contour. The good news for those that don't have it is that we can try to create it for you. The best candidate for this technique is a healthy patient near their ideal weight.
There are really two ways that I try to surgically create the "bikini bridge":
1. The first is with liposuction. I intentionally hollow-out the area lateral to the pubic mound. This can be combined with liposuction to the abdomen and the sides, to create a beautiful contour.
2. The other way is to thin the flap of fat during a tummy tuck. One of the limitations of a traditional tummy tuck is that patients can look pulled flat and too tight. They can lack natural contours that are aesthetically pleasing. This technique can help create a more harmonious shape. Combined with a low scar and a natural belly button, it can create a beautiful tummy tuck result.
My goal is that my patients can wear a bikini, and a stranger would not know they had surgery. The above mentioned techniques help to achieve that goal.
Some may say that striving for such a thing as a "bikini bridge" is silly. Others may even argue it is crazy to try and create the appearance otherwise not easily attainable without surgery. Perhaps they feel that way about all cosmetic surgery. However, I have had the opportunity to see how happy patients are after their surgery. I have heard their stories about increased confidence and its impact on so many aspects of their lives.
When it comes to the "bikini bridge" I believe that it helps create a natural and beautiful shape to the abdomen.
If I treated a man's abdomen, I would try to create a defined inguinal crease. If I treated a man for gynaecomastia, I would shape the entire chest giving the pec muscle definition. In both of these examples, my goal is to provide the most aesthetically pleasing contour that I can. It is the same when trying to achieve a pleasing result to a women's stomach.
If you are interested in learning more about the bikini bridge, tummy tuck, mommy makeover, liposuction, body contouring or any other plastic surgery procedures, please contact Dr. Rodger Shortt to arrange an appointment at 905-849-4282 or info@drshortt.com.
Dr Rodger Shortt is a plastic surgeon servicing Toronto, Oakville, Mississauga, Burlington, Milton, Hamilton and Georgetown. He strives to provide his patients the best care and excellent plastic surgery results. He is one of only a few plastic surgeons in Canada with a top rating on RateMD, RealSelf and Ontario Doctor Review. Dr Rodger Shortt is a specialist plastic surgeon trained in cosmetic surgery and reconstructive surgery. He specializes in breast surgery, breast augmentation, breast fat transfer, mommy makeover, tummy tuck, body contouring, breast reconstruction and cosmetic surgery of the face. He is the Director of Cosmetic Surgery Training at McMaster University and an Assistant Clinical Professor. If you are interested in a consultation with Dr Shortt please contact as at 905-849-4282 or visit www.drshortt.com.
Feel good, look great!
---
LET'S DISCUSS YOUR OPTIONS CONTACT US TODAY.