PATIENT RESOURCES / DR's Blog
The Many Myths About Fat Grafting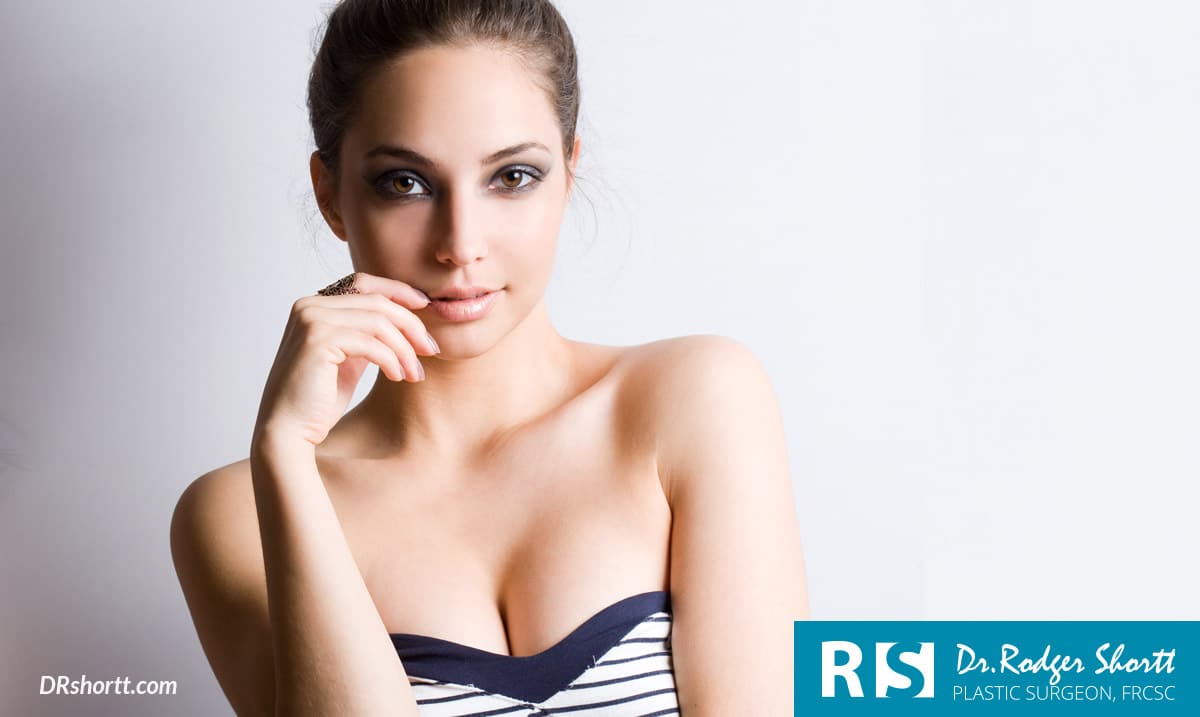 There are many myths about fat grafting to the breast. I perform a lot of fat grafting procedures and I hear about them at my office all the time. So let's go over some of myths now and try to clear them up:
1. MYTH: Fat will disappear.
FACT: The process of fat grafting requires harvest from another site, followed by processing, and finally injection. During the procedure some fat cells can be damaged. While the goal is to remove all liquid (injected to minimize pain and bleeding), blood, and non-viable fat cells, some will still be injected. On top of that, even some perfectly good fat cells will not obtain proper blood supply in the breast. So not all of the volume injected is actually healthy fat cells that get good blood supply. That which isn't gets absorbed by your body, leaving you with the healthy fat that did survive. In addition, you will have swelling from the procedure that will take time to settle. The fat that you have at a couple of months though is likely to be permanent. If, however, your weight goes up or down, so too will the size of your breasts.
2. MYTH: Fat grafting is an easy surgery.
FACT: Fat grafting has many benefits over implants, but is a longer and more technically demanding procedure. Every step of the way needs to be done meticulously, or the fat survival rate will go down. It is time consuming and takes a lot of patience on your surgeon's part. Not all surgeons have the patience to get the ideal result. If they are not willing to place the fat drop-by-drop, the result will be limited.
3. MYTH: Fat cannot increase the size of the breast very much.
FACT: Because of the importance of blood supply, you can essentially double the size of the breast at the time of surgery. If you over-exceed that amount, the fat will not have good blood supply, and may not survive as well. After resorption of fluid and cessation of swelling, you can expect a 50-60% larger breast than pre-surgery. If a second surgery is done, you can inject even more than the first time, leaving your final volume 2-2.5x larger than when you started if all goes well.
4. MYTH: Fat grafting and implants are never done together.
FACT: Fat grafting is an amazing technique to use in conjunction with an implant. Although many patients do not need this, it can conceal the edge of an implant really well in thinner patients. This provides patients with a full, yet still natural looking and feeling result. It is also great for enhancing cleavage in patients with wide set breasts. However, very few surgeons do this. It is only done by surgeons with a very specialized interest in both breast surgery and fat transfer. With all that being said, I have done it countless times and the results can be amazing.
5. MYTH: Fat will leave me with lumps or dents.
FACT: Fat grafting can provide amazing looking results that are natural looking and feeling. However, the process MUST be done very carefully. If too much fat is placed, or if it is done without precision, then you will have a much higher chance of fat loss or oil cysts. You must go to a surgeon that has a very specialized interest in fat transfer. Not all surgeons provide great results with fat transfer. It is not as straight forward as placing an implant.
6. MYTH: Fat transfer is better than implants.
FACT: There is no perfect surgery. I spend a lot of time over several visits with my patients helping them come to the best answer for them. Fat transfer is great as there are virtually no scars, you get to treat a "problem" area with liposuction, and the results are very natural. However, it does not do as well to increase volume when you desire a much larger breast. It also does not enhance the shape of the breast as well as an implant in someone with a less pretty shape to begin with. Your surgeon should go over the pros and cons of all your choices and help you decide which is the best for you.
7. MYTH: Fat grafting can be done in anyone.
FACT: Although fat grafting can be done in anyone, not everyone is an ideal candidate. You need to have enough fat to harvest to make it worthwhile. Sometimes the only fat people have is in the buttocks. Not all patients want to give up volume in their buttocks. You also need to have a place to put it. If you are so thin that there is little space to place the fat, you may need more than one surgery. Remember, you can double the size of the breast at the time of surgery, leaving you 50%-60% larger in the end. With a second surgery, you can put a fair bit more fat than the first, leaving you up to 2-2.5 times larger than when you started. For some patients, they may simply do better with an implant and some fat grafting to conceal it well.
8. MYTH: There is only one perfect technique.
FACT: Many surgeons that do a lot of fat grafting use very different techniques for how they harvest the fat and how they process it. So long as care is taken to minimize injury to fat, there are lots of ways of doing these steps. What virtually all surgeons agree on is that fat must be carefully placed and you must not exceed the maximum volume. You have to be a perfectionist to get the best possible result from breast fat transfer.
9. MYTH: Fat transfer costs more than implants.
FACT: Fat transfer is really dependant on the time it will take to harvest, process and transfer the fat. It certainly takes longer than an implant. So there will be more surgical and anaesthetic fees. However, there is no cost of implants which is considerable. In the end the prices are not that different. Choose the best surgery for you based on your goals. Not the cost.
10. MYTH: Fat transfer is a cosmetic procedure.
FACT: Fat transfer has been used in cosmetic and reconstructive surgery for quite a while but has really become much more popular recently. I use it in a number of different settings. For cosmetic purposes I use it for: breast augmentation, when trying to increase size; in a breast lift if I want to increase the fullness in the upper breast without using an implant or when a patient doesn't want to be too much larger; to create better cleavage during a breast augmentation or a breast lift surgery; to soften the contours of ribs that are prominent; and to conceal a breast implant in a thin patient (without having to lift up the muscle). For breast reconstruction I use it for nearly all the same reasons I just mentioned; but also to conceal the edge of the breast reconstruction, (whether a flap of tissue or implant); to fix lumpectomy defects; to improve upon the quality of radiated tissue, prior or after breast reconstruction; and in some cases, to create a breast entirely from transferred fat.
Dr Rodger Shortt is a plastic surgeon servicing Toronto, Oakville, Mississauga, Burlington, Milton, Hamilton and Georgetown. He strives to provide his patients the best care and excellent plastic surgery results. He is one of only a few plastic surgeons in Canada with a top rating on RateMD, RealSelf and Ontario Doctor Review. Dr Rodger Shortt is a specialist plastic surgeon trained in cosmetic surgery and reconstructive surgery. He specializes in breast surgery, breast augmentation, breast fat transfer, mommy makeover, tummy tuck, body contouring, breast reconstruction and cosmetic surgery of the face. He is the Director of Cosmetic Surgery Training at McMaster University and an Assistant Clinical Professor.
If you are interested in booking a consultation for breast fat transfer or breast implants, please contact Dr. Rodger Shortt to arrange an appointment at 905-849-4282 or info(at)drshortt.com.
Feel good, look great!
---
LET'S DISCUSS YOUR OPTIONS CONTACT US TODAY.