PATIENT RESOURCES / DR's Blog
Plastic Surgery for Men Part 3: Liposuction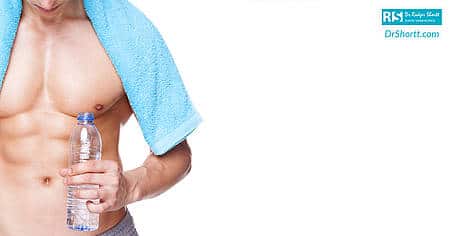 This is for the men out there, or ladies with men in their lives, who may be interested. Men are becoming more and more interested in taking advantage of plastic surgery to enhance their appearance and the way they feel about themselves. I previously talked about gynaecomastia and facial rejuvenation for men. Today I am going to talk about liposuction.
Liposuction is an amazing technique for improving contour in a stubborn area.
Liposuction involves removing fat by suction through a cannula that is gently passed back and forth in the area of fat for removal. It is best suited for people that do not have a lot of extra fat, but rather an area that is stubborn. For men, the two common spots are the love handles and the paunch below the belly button. Many guys can get really fit but these areas just won't go away.
The other area I do liposuction a lot for men is around the chest for gynaecomastia. Liposuction can do a great job to remove these areas of fat. The skin then tightens up over the next couple of months leaving a flattened more aesthetically pleasing contour. The best part is that scars are very tiny and fade away over time so that it is very difficult for anyone to know you had surgery.
The surgery for the flanks and abdomen is done with deep sedation or fully asleep. This makes it possible to treat the area thoroughly while making sure that you are comfortable. You will feel bruised for a week or so and will have to wear a compression garment for six weeks to get the best liposuction results.
Who is the best candidate for liposuction?
The best candidate is someone that is healthy and is near their ideal weight, but who still has an area of stubborn fat that despite nutrition and exercise it just won't go away.
It is important that the skin is of nice quality. Really lax skin will not always contract as much as needed to improve the appearance. In that setting, a different surgery may be the best choice.
Who is liposuction not ideal for?
Liposuction is not a weight loss procedure. Despite obviously removing fat, the main goal of liposuction is to contour the body. It provides very localized fat removal, and is not as good for generalized weight loss. People with really lax skin will not get the benefit that they would if they had thicker, more elastic skin.
For more information on liposuction visit drshortt.com/body-contouring/liposuction
If you are interested in a consultation to discuss body contouring please contact my office to arrange an appointment. Click here or telephone 905-849-4282.
Dr Rodger Shortt is a specialist plastic surgeon who graduated from Queen's Medical School in 2004 and became certified by the Royal College of Physicians and Surgeons of Canada in 2009. He received further sub-specialty fellowship training with international plastic surgeons in micro-vascular breast reconstruction, cosmetic plastic surgery, and body contouring after bariatric (gastric banding) surgery, significant weight loss or post-pregnancy. Dr Rodger Shortt strives to be the best plastic surgeon and is committed to providing high quality patient care and achieving excellent results. He is considered one of the top plastic surgeons and one of the few plastic surgeons in Canada that has the top rating of five stars in Realself, Rate MD, and Ontario Doctor review.
Feel good, look great!
---
LET'S DISCUSS YOUR OPTIONS CONTACT US TODAY.